Lori Ballen is a member of the Amazon Associates Program and earns money from qualifying purchases. Posts contain affiliate links that benefit Lori as well.
I'd like to introduce eShakti®– the powerful new women's lifestyle brand that's giving hope to women everywhere and allowing to shop size-free!

About eShakti®: Why it works for women
For many, the idea of shopping for new clothes makes us shudder. While the fashion industry has tried to divide people in too small, medium and large, those simplified labels rarely fit the person trying on the clothes.
The truth is, these sizes have been created for models, and while they may suit bikini models and athletes, they don't fit many working moms, business owners and regular, everyday people.

"Finally, the search for the perfect little black dress is over."
eShakti®, simply put, is a women's fashion company that custom-makes clothing for customers based on their own measurements for height, size and style preferences.
We all love clothes, but it's hard not to notice that shopping was more of a hassle for some women because they didn't fit into pre-determined sizes that the fashion industry felt they should fall into.
This company is about creating a place where women of all sizes can shop with being judged by the size tag on their clothes.
Their designers create new, original styles based on some of the hottest new trends, and they give you the option to affordably customize anything you purchase!
Women these days need to be able to dress for any occasion. From dinner with friends to poise in the boardroom, finally, the search for the perfect little black dress is over!
Their Business Model: why it works for shoppers
In the digital world, there's no shortage of online companies that are willing to run your payment information in return for sub-par clothing. At eShakti®, that's not how it works.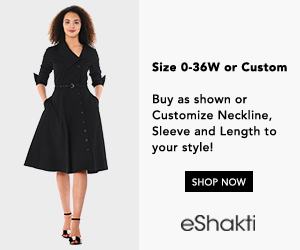 They make a promise to their customers that the quality you receive will never be less than what you expect. Additionally, with this company, it's all about you. Know these two things about ordering your clothing from eShakti®.
The clothing provided will be made just for you, utilizing measurements and alteration information that's sent in. They don't want the clothes to look good on a mannequin – they want it to it to look good on you!
Their goal is to bring new, weekly styles that reflect the hottest trends in fashion.
How eShakti® Works
So, they make affordable, high-quality clothing for the individual woman that's customized to their specific body type and style preferences – sound a little too good to be true? I assure you it's not – they're focused on making quality clothing that's wearable for someone with any body type, and this is how they do it.

Step #1: Shop 'till you drop
The first step is to browse eShakti.com for your favorite tops, bottoms, dresses and other fashions. Add them to your cart and watch your wardrobe grow.
Step #2: Measure up
The next step is to put in your measurements. While you're not required to customize anything that you purchase, they'll need to know your height to give you a good fit on things that aren't tailored.
For those that will customize clothing, I advise looking at their measurement guide if you're uncertain of precise measurements and how to find them.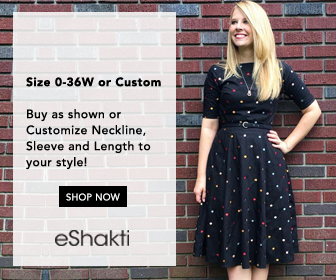 Step #3: Make it you
Once again, you're not required to customize anything. However, they do style customizations for individual pieces for just $9.95 per item. Love the pattern but gate the hemline? Customize it! Wish the sleeves were shorter for summer? Customize it!
They'll give you every opportunity to make your clothes more, well, you!
Step #4: Sit back & wait
Once they have your order, they start hand-crafting your items and have them at your doorstep between 14 – 17 days. See payment options for more details.
Step #5: Wear it proud
Finally, there are no more steps to complete but to wear your custom clothing with pride. Turn eyes at the part or feel confident at your next company luncheon, but whatever you do, wear it proud!
Payment Options
eShakti® processes orders from the United States, Canada, Australia, UK, Singapore, UAE, Saudi Arabia, Germany, France, Italy & the Netherlands. They process all transaction in US dollars, and they accept modern forms of payment including American Express, Discover, MasterCard, Visa, and PayPal. Only one discount (offers from eShakti®) may be used per order, and all promotional discount codes and offers are for one-time use only.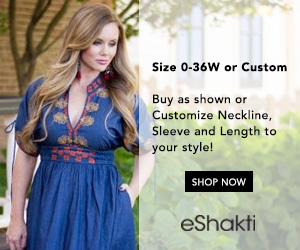 But you can use as many gift cards as you like for a single order. They do charge for shipping and price will be dependent on the size of your order.
| | |
| --- | --- |
| Order Value | Shipping Fee |
| $0 – $49.99 | $9.00 |
| $50 – $74.99 | $9.95 |
| $75 – $99.99 | $11.95 |
| $100 – $124.99 | $12.95 |
| $125 – $149.99 | $14.95 |
| $150 – $199.99 | $16.95 |
| $200 and up | $24.95 |
Style That Fits

In order to truly find the style that fits you, they know that they have to offer an abundance of options to ensure customers have a say in what their clothing looks like and how it fits them – only then can they be truly confident in what they're wearing. Read below about your options for each type of item and browse eShakti.com to start shopping, customizing and loving the way that you look!
Print Options
Florals
Stripes
Checks
Conversational
Polka Dots
Graphics
Celestial
Prairie Style
Dresses
Prints
Solids
Knits
Embellished
Fit & Flare
Shift
Sheath
Shirt Dresses
Maxi
Wrap
Vintage Inspired
LBD
Wear to Work
Special Occasion
Party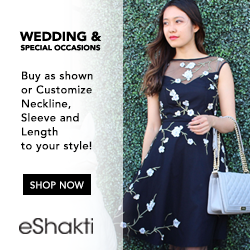 Tops
Shirts
Blouses
Jackets
Prints
Solids
Knits
Tunics
Embellished
Pants
Finding your Figure: How To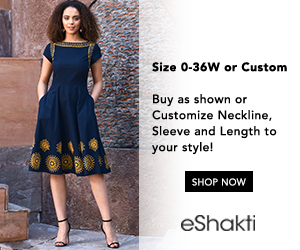 Measurement Tips
For custom clothing, you'll have to provide eShakti® with your measurements, which won't be shared with anyone else. Additionally, I know that you've been conditioned to adjust measurements and sizes based on the piece of clothing, style or cut. However, it's advisable to share your exact measurements.
They know their designs and use them to make sure the custom clothing you receive is just as flattering as you imagined it. Read a few measurement tips below:
Give them your exact measurements. Embellishing or adjusting will result in clothing that doesn't fit as well.
If you're worried about the size or fit of a specific piece, email them with special instructions or questions. They use all information about you to make the clothing correctly to your body type.
When you measure, wear the undergarments that you usually wear underneath your clothes.
Keep the measuring tape level and close to your body for the most accurate measurement.
It's best to have someone help with your measurements to ensure you get them right.
Measure twice, order once. Measure and measure again to check your work and avoid ordering clothing that doesn't fit.
How to Measure
Shoulders:
Stand with your back straight and chin looking straight out ahead. To get an accurate measurement, you measure from the tip of the shoulder on one side of your body to the tip of your shoulder on the other side of your body.
Chest:
For this measurement, relax your arms at your side, and measure above the bust line at the level of the armpits. Wrap the tape measure around your back over your shoulder blades and overlap at the beginning of the tape measure to find the measurement.
Bust:
To measure your bust. Wear a bra and start with your arms relaxed at your aide. Measure the fullest part of your bust, taking the tape measure under the armpits and around your back at the location of the middle of your bra line.
Under-bust:
For this measurement, start underneath your bused and wrap the tape measure directly around your torso.
Waist:
To get an accurate measure of your waistline, you'll have to measure your natural waistline. To find your natural waistline, bend over and find where your body creases – this is your natural waistline. This may seem in a different location than where you wear pants – that's okay, they use this measurement instead as it's more accurate.
Hips:
To measure your hips, wrap the tape measure around the broadest part of your hips and backside. This is approximately where the legs and torso come together.
Upper Arm:
For this measurement, measure the largest part of your bicep to ensure your sleeves will fit the size of your arms.
Height:
While we all may think we know our height, usually, we take some liberties for the sake of making things easy. Don't round or embellish your height for these measurements. Stand up against a wall with your back straight and chin looking out ahead. Measure from the floor to the top of your head.
Bra Cup Size:
Find your most comfortable bra and note the measurement from it.
You've Got questions. We've got answers. Read our FAQs

Girl, how am I going to pay for this?
Excellent question. eShakti®'s navigable payment interface makes it easy to pay with American Express, Discover, MasterCard and Visa. They even accept PayPal payments and offer gift cards for the fashion lover in your life.
When will it get here?
Due to the customization process, it takes a little longer to complete the process, but purchasers can still expect to see the box at their door in 14 – 17 days, so about two weeks! Shipping rates do apply and are based on the size of your shipment.
Where are the clothes made?
The factory for clothing made and distributed by eShakti® are manufactured in India near New Delhi. Their website states that:
"eShakti® upholds the labor laws of India in letter and spirit. We have a minimum age requirement of 18 and exceed the minimum wage amount by 70%. We comply with all applicable laws and regulations relating to benefits."
I'm usually in-between sizes, will this work for me?
Yes! That's the whole point. You get access to new styles, weekly and all the clothes can be customized to your liking. They use your measurements to ensure every inch of the clothing fits every curve on your body.
What's the return policy?
eShakti® accepts returns for all clothing (even customized) for up to 30 days after the date of the order delivery. During the 30-day return period, they allow you to choose between refund to your original payment form or refund to an eShakti® gift card. After the first 30 days, you have another 30 days to return the item, but only for an eShakti® gift car.
How much does it cost to customize clothing?
Customization starts at $9.95 per item and is an affordable way to make sure the clothing you work so hard to pay for will actually fit you.
Where can I find more information?
Visit eShakti.com to view information about their brand, other details and to start shopping today!